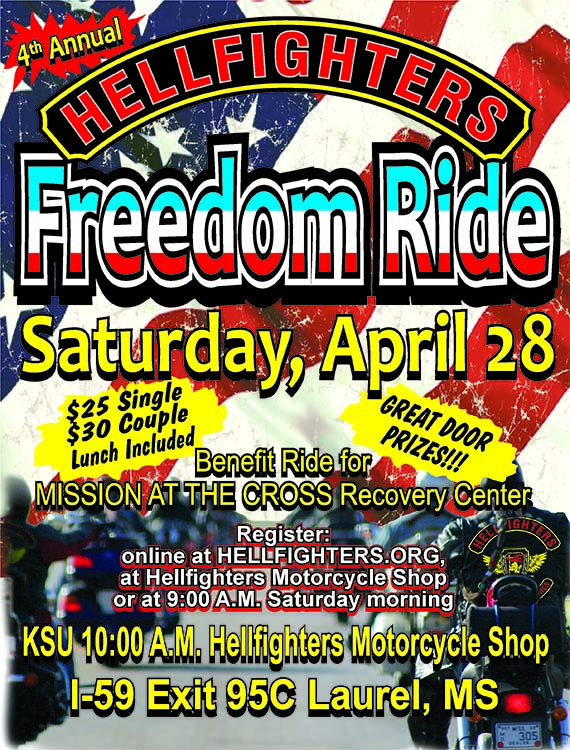 THANK YOU for participating in the
4th Annual Hellfighters Freedom Ride on Saturday, April 28, 2018!
The Freedom Ride is a benefit ride hosted by Hellfighters Motorcycle Ministry.
100% of the proceeds go to The Mission At The Cross in Laurel, MS,
a home and Christian recovery center for men battling addiction.
Mission At The Cross is a working mission that relies on volunteer labor, donations, and fundraisers in order to make housing, meals, and clothing available at no charge to the men who live there. Since December 2008, over 1000 men have called The Mission At The Cross "home" and many, many lives have been changed as a result.
This year's ride will be very exciting with lots of GREAT DOOR PRIZES!
Lunch will be provided to all Freedom Ride participants in the newly renovated HELLFIGHTERS USA! Two years of blood, sweat, and tears have gone into this amazing project, which will be the new home for Hellfighters Motorcycle Shop (making it one of the most exciting bike shops in America!) and much, much more!
Please tell your fellow riders about this benefit ride as they will not want to miss a sneak peek of HELLFIGHTERS USA before it's Grand Opening on July 7, 2018!
~ The donation is $25 for a single rider or $30 for a couple ~
~ Please pre-register online HERE or at Hellfighters Motorcycle Shop ~
~ We accept cash, credit cards, debit cards or PayPal ~
On Saturday morning:
9:00 AM – Registration begins
10:00 AM – Freedom Ride begins
at Hellfighters Motorcycle Shop
328 South Magnolia St. | I-59 Exit 95C | Laurel, MS | (601) 342-2732
T-Shirts & Patches will be available the day of the ride.
For more information, contact Mike Grubb:
601-335-5240 | camike@hellfighters.org
We covet your prayers for the Freedom Ride as it helps to provide the resources needed to continue the free services we provide at The Mission At The Cross. For many, The Mission At The Cross is their last chance at returning to a normal life. For all, it is an opportunity to hear the Gospel of Christ and live in a Christ-centered environment.
Thank you so much for your support and God bless you!
"Therefore if the Son makes you free, you shall be free indeed." John 8:36 (nkjv)